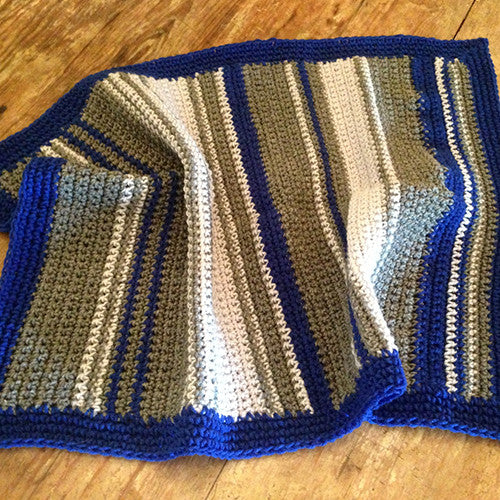 Dogquette Blanket DO1042
Description
Each Dogquette Blanket is hand crochet and made in Beverly Hills, California. The use of Grey, Crème and Royal in this multi stripe adds to the stylish comfort of this beautiful one-of-a-kind-blanket. Since we have sold these beautiful Dogquette Blankets, we have been told that the nesting process can be very funny, as their Pet makes them into a myriad of shapes before they decide it's perfect to lay on, and becomes their absolutely favorite possession!
Size 24" x 33"


Reviews
Shiping Details
Wags and Woofers is a wonderful place for the discerning Pet Owner and Animal Lover. We Standard Ship throughout the United States and Worldwide, unless otherwise specified.
Return Policy
RETURN POLICY

If for some reason you are unhappy with your purchase or if there is a damage to your purchase through shipping, please email us for the method of return we suggest. There is a 15 day exchange or return policy. Each Dog and Cat product has been inspected for damages and only the best WAGS and WOOFERS  Pet Products are sold and shipped.
We will not accept merchandise that has been used or abused.
CUSTOM CATEGORY

We have several collections that are custom made just for you. When purchasing and in order to answer all your questions, please contact us. We will have all the answers and some friendly conversation besides. You must choose carefully as with all custom made items, unless there is a shipping damage or if your order wasn't made accurately to your specifications, it is yours. Some products will be ready sooner than others but a good rule of thumb is 6 to 12 weeks. 
 CONTACT  US
Email Address: info@wagsandwoofers.com
Telephone number: 877.659.0488