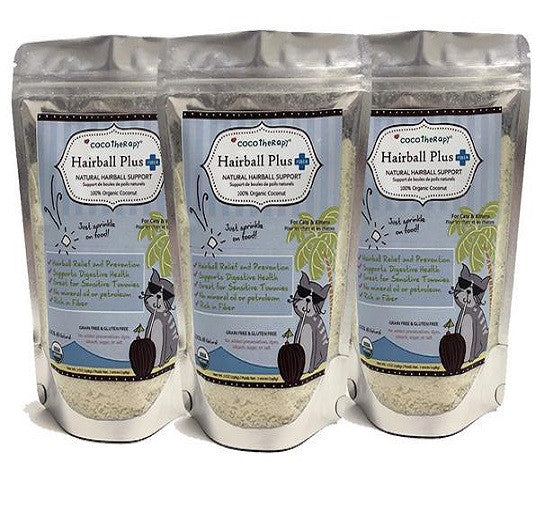 Coco Therapy Hairball Plus Fiber for Cats
Description
Cat Hairball Plus is a wonderful way to treat hairballs for Kittens and Cats naturally. From the leading manufacturer of Coconut Products, COCO Therapy, we bring this raw, grain and gluten free,100% human grade, non GMO, preservative free (no colors,salt or sugar), mineral oil and petroleum free and 100% USDA certified organic solution for your cats hairball hurling and gut sensitivities. There is nothing artificial about this product so you can feel good about giving it to your Kittens or Cats.
Did you know that Coco Therapy Hairball Plus will break down easily in moisture, it produces Short-Chain Fatty Acids that are feeding friendly bacteria for optimum Gut Health, and Coconut fiber passes through the intestines and has a greater impact moving through the system, to help waste pass more efficiently.
Reviews
Shiping Details
Wags and Woofers is a wonderful place for the discerning Pet Owner and Animal Lover. We Standard Ship throughout the United States and Worldwide, unless otherwise specified.
Return Policy
RETURN POLICY

If for some reason you are unhappy with your purchase or if there is a damage to your purchase through shipping, please email us for the method of return we suggest. There is a 15 day exchange or return policy. Each Dog and Cat product has been inspected for damages and only the best WAGS and WOOFERS  Pet Products are sold and shipped.
We will not accept merchandise that has been used or abused.
CUSTOM CATEGORY

We have several collections that are custom made just for you. When purchasing and in order to answer all your questions, please contact us. We will have all the answers and some friendly conversation besides. You must choose carefully as with all custom made items, unless there is a shipping damage or if your order wasn't made accurately to your specifications, it is yours. Some products will be ready sooner than others but a good rule of thumb is 6 to 12 weeks. 
 CONTACT  US
Email Address: info@wagsandwoofers.com
Telephone number: 877.659.0488